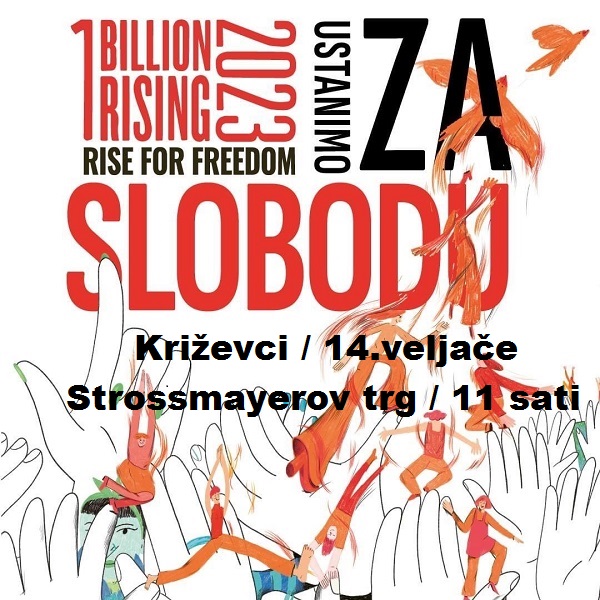 We hereby send you an invitation to support and participate in the celebration of the One Billion Rising Campaign in Križevci.
A billion people stand up against violence against women and girls
The "Billion Rises" campaign is a worldwide global campaign launched by the V-day activist movement in 2012, led by activist Eva Ensler, as a call to action and a response to the terrifying statistics that every third woman in the world has been beaten or raped, which makes a total of one a billion abused women. Croatia is no exception. The data are alarming. Every 15 minutes a woman is physically abused, about 20,000 cases of violence are reported every year, and an increasing number of women are killed by their partners.
This year marks 10 years of the campaign and 20 years of the V-Day movement, which grew out of the global movement Billion Rises Against Violence Against Women and Girls, in which 200 countries participate, including Croatia.
This year's motto is LET'S STAND UP FOR FREEDOM! / RISE FOR FREEDOM aims to create a new culture where there is no violence, where we develop compassion and solidarity, fight against inequality and protect planet Earth.
GLOBAL MOVEMENT A billion rises against violence against women and girls – 'One Billion Rising' in February and March every year, it carries out a campaign in about 200 countries around the world, including successfully in numerous cities and towns in Croatia
The Billion Rises campaign began with a central event on February 11 at Cvjetni trg in Zagreb, and will continue throughout February and March in numerous cities in Croatia, which will also be joined by the Križevci in 2023.
The commemoration of the campaign in Križevci will take place on Tuesday, February 14, 2023, at 11 a.m. on Strossmayer Square, organized by the "HERA" Association, which will be joined by the Križevci majorettes with a dance choreography to the 'anthem' of the BREAK THE CHAIN campaign. . We invite all dance groups, male and female citizens to join the choreography and to send a message of sympathy and solidarity by symbolically celebrating the campaign.
The Križevci Association of Persons with Disabilities thus marked the campaign with a commemorative photo below.